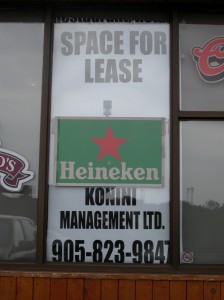 It's a sad day in wing land – Wing Shack Whitby is closed.  It was my favourite wing place of all time.
The wings were awesome!  Never breaded, and almost all of the flavours were spicy.  For example, their medium was literally Frank's Red Hot hot sauce.  Not just spicy, but delicious too.  They used to have a promo where for every Leaf's game, it was 2 for 1 wings for the whole game, also it used to be 2 for 1 Saturdays too – but they cut back on those days this year.
I've sent an email out to the owner to see what he's got to say about it, if anything. (check back soon for an update)
I've heard back from one of the bands that was scheduled to play, and I'm not saying who, but here's what they had to say, "[we] were told last week that The Wing Shack in Whitby has gone under ……… no gig, unfortunately!"
I hope this isn't the last Wing Shack endeavor.  If it is, I would love to get a hold of the recipes, especially the 9 pepper.  The 9 pepper is unmatched in flavour, and has great heat.
The Wing Shack wings are the yardstick by which I judge all other wings.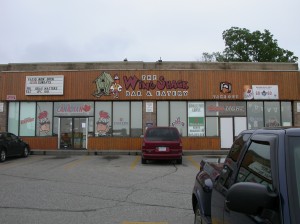 If you know more about the details of the closing or what's coming up from these guys, please leave a comment!  (also let know if it's on the down-low, I won't say anything)
Also, if you are willing to share your recipes, oh great Wing Shack chefs, I'd be glad to publish them (or keep 'em to myself – either way, I'll take 'em).
I've now added an archive of the Wing Shack's website (as it was when it went down) to my site, with Dave's permission of course!
I've been in contact with Dave on several occasions (address in comments below), and ordered sauces off of him when he does a batch.  If you'd like authentic Wing Shack sauces, contact him.  It's legit, and the sauces are awesome!
Dave is launching a new venture in Oshawa, The Patty Shack.  More info here.