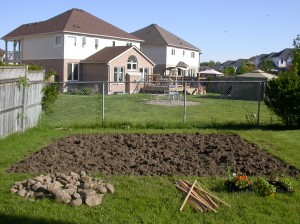 Having recently moved, I found that my new place wasn't set up for a garden.  If you've ever tried to buy decent hot peppers at the supermarket out here, you will understand why I need one.
We (Laura & I) don't have too many plans for the back yard, except fixing the patio (but that's another story), and I love home-grown veggies, so I thought we should put a big garden in.  By big, I mean 18'x18′ – which is pretty big for suburbia.
With the help of our friend Bill, we were able to remove the sod, and do an initial till of the soil in 2.5 hours!  He had access to a sod-kicker, and a roto-tiller.  So, if you find yourself having to remove a good chunk of sod, seriously, rent the sod kicker.  I've removed sod by hand, and you wouldn't believe the amount of work this little baby will save you.
When we did the initial till, I bought 18 bags of black earth, and 6 bags of sand.  It turns out that it wasn't nearly adequate, so I did another identical load this weekend past.
What I didn't realize was that to till 18'x18′ by hand for the plot's first time was a lot of work.  It seemed like every time I put my spading fork down, I would hit a rock.  It was well worth doing a second tilling by hand though, as I was able to remove a whole pile of rocks.  I expect the fall tilling to go a lot quicker, and I'll probably do it by hand again, just to get rid of any stragglers.